Shannon and Darren had their destination wedding at The West Monitor Barn in September.  The very beginnings of fall were felt in the air and their color palette reflected that seasonal style with reds, oranges and yellow contrasted with purples for a slight twist on traditional "fall colors".  Occasions Catering was on site to tend to all of the details and the talented Stina Booth of Studio SB captured all the details of the day.
The bride carried a bouquet of orange roses, yellow freesia, purple callas, anemones, montbretia, red spray roses, hypericum berries and agonis.  I absolutely love the way these colors look together.
 Her bridesmaids carried smaller, similar bouquets to contrast with their deep purple dresses.  Stina captured this great shot of the bouquets!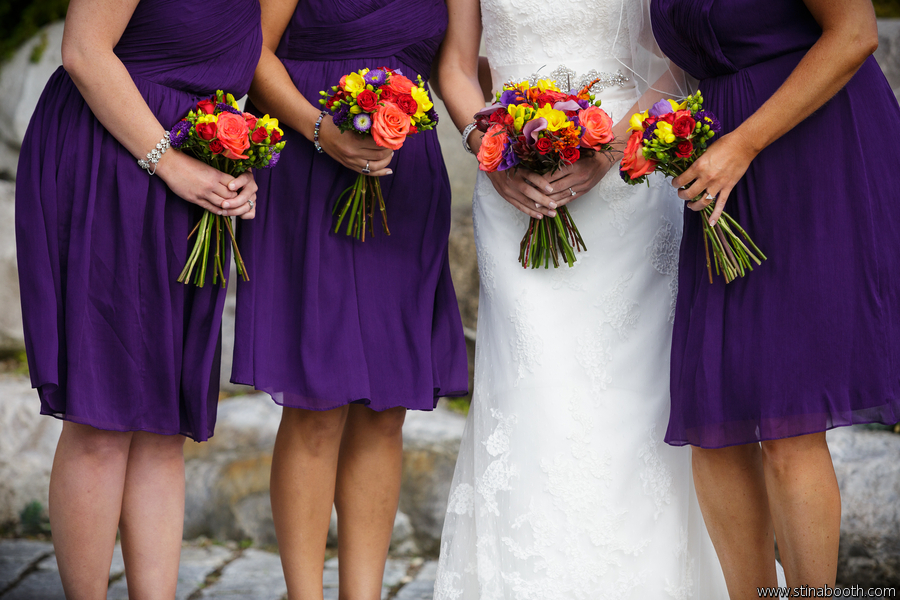 A mom's clutch bouquet made up of purple anemone, callas, asters, orange roses & red spray roses with freesia and hypericum berries.
The ceremony took place in an open field under a wooden arbor adorned with garlands of fresh greenery and flowers to complement the wedding party's flowers.
The men wore calla boutonnieres with grey suits.  Stina captured such a cute moment here!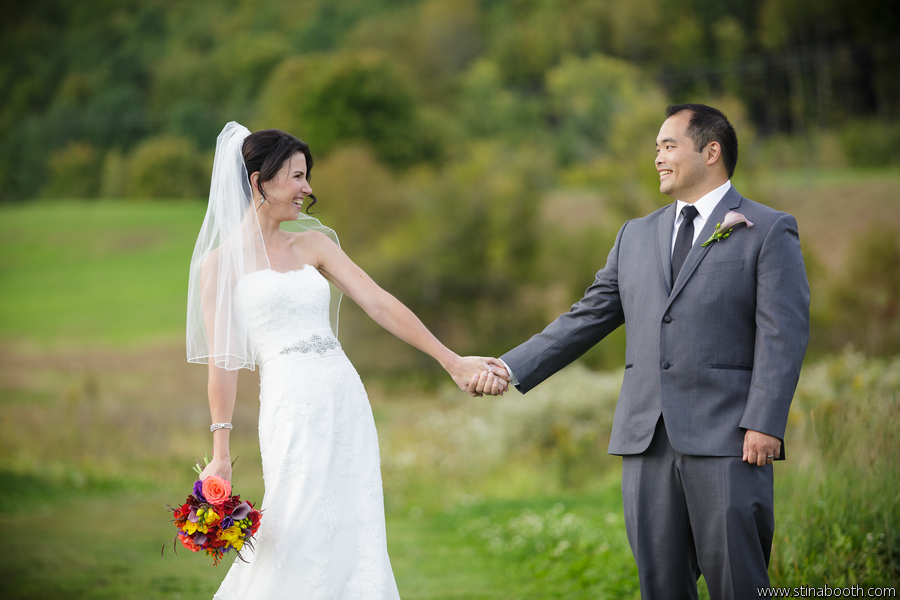 Shannon acquired lanterns for her tabletops and wanted a few floral accents for some color.  Orange callas, spray roses, asters, viking poms, hypericum berries and agonis add a fresh element to the tables.
The orange callas were stunning with nearly yellow centers that turned to nearly red tips.
Congratulations to Shannon and Darren who introduced many of their destination guests to the beauty of a Vermont fall day!
These last two are just for fun…  I had a partner in my studio this season!
I also had some fun on Instagram.  Find me at:  instagram.com/floralartvt
As always I love when you share the love!
2 comments
Such bold, vibrant colors for a fall bouquet! Unique and lovely!

Wonderful job with the flowers. I just love the colors, they were so pretty with the purple dresses!!