After months of summer weddings I find myself re-energized by fall weather and fall wedding flowers!  Jess and Emmet were married last Saturday at Grand Isle Lake House on a beautiful almost-fall day.  After a string of rainy days a perfect, sunny wedding day greeted us and then was followed by another string of rainy days!  This bride and groom majorly lucked out as far as weather goes!  Sue was at the Lake House on the day of the wedding to see to all the details for the couple and Spencer Leonard photographed their big day.
I took a few bouquet shots in my studio.  The bride's autumnal bouquet included orange callas, leonidas roses, orange and red spray roses, yellow freesia, crocosmia, white lisianthus, feverfew, geranium foliage and fresh mint.
The attendants wore apple red dresses and carried bouquets of snapdragons, rover mums, roses, spray roses, freesia, callas, geranium foliage and rosemary.  The men wore boutonnieres of red and orange spray roses with safari sunset and accents of rosemary.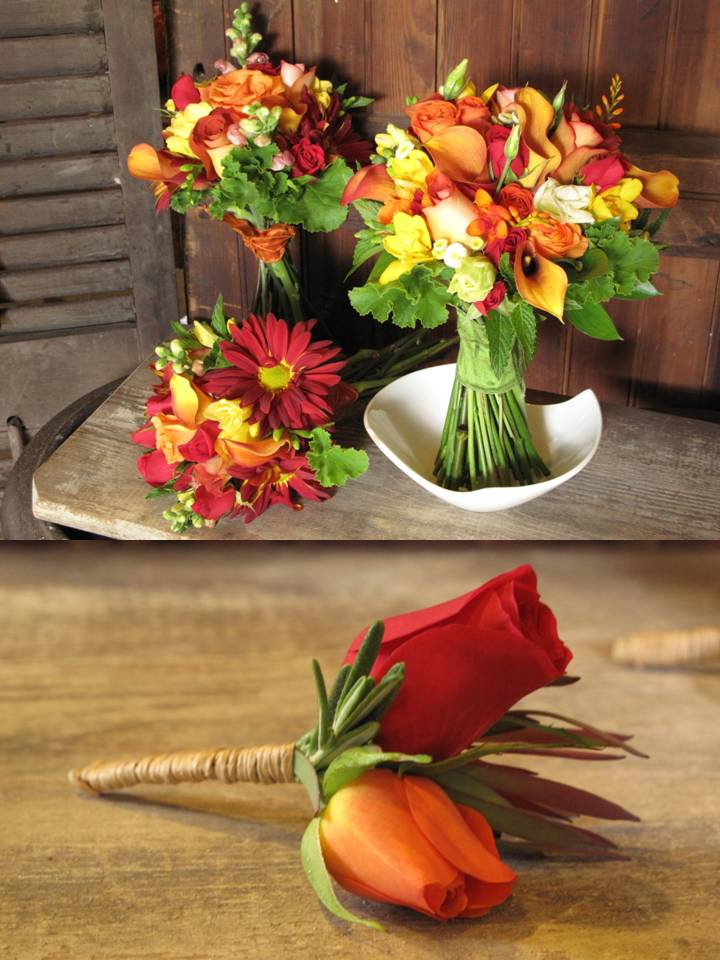 Dave got a nice shot of the Grand Isle Lake House while I set up the arbor.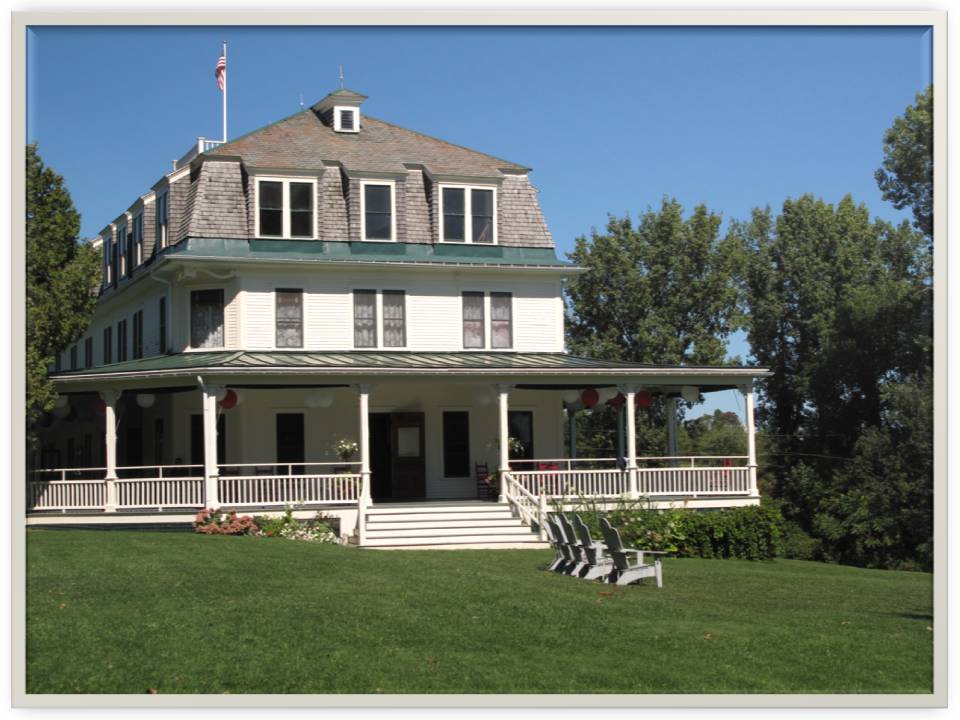 He also got a shot of me putting some finishing touches on the flowers.
It was such a clear, sunny day in Grand Isle.  Perfect for a wedding!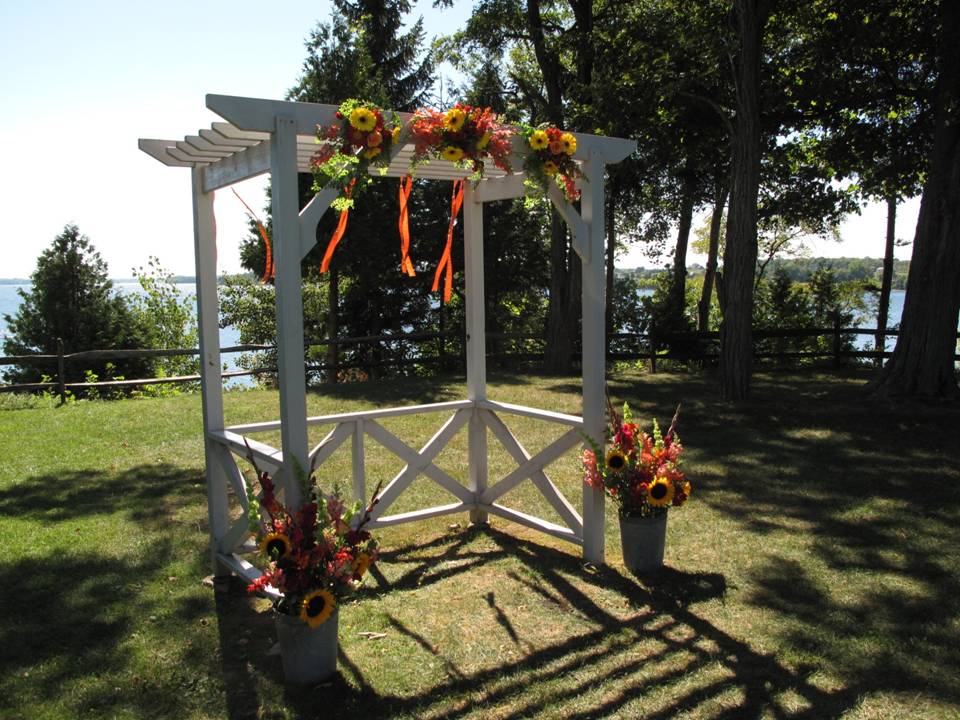 I couldn't resist taking another shot of Jess's bouquet on this super cute chair!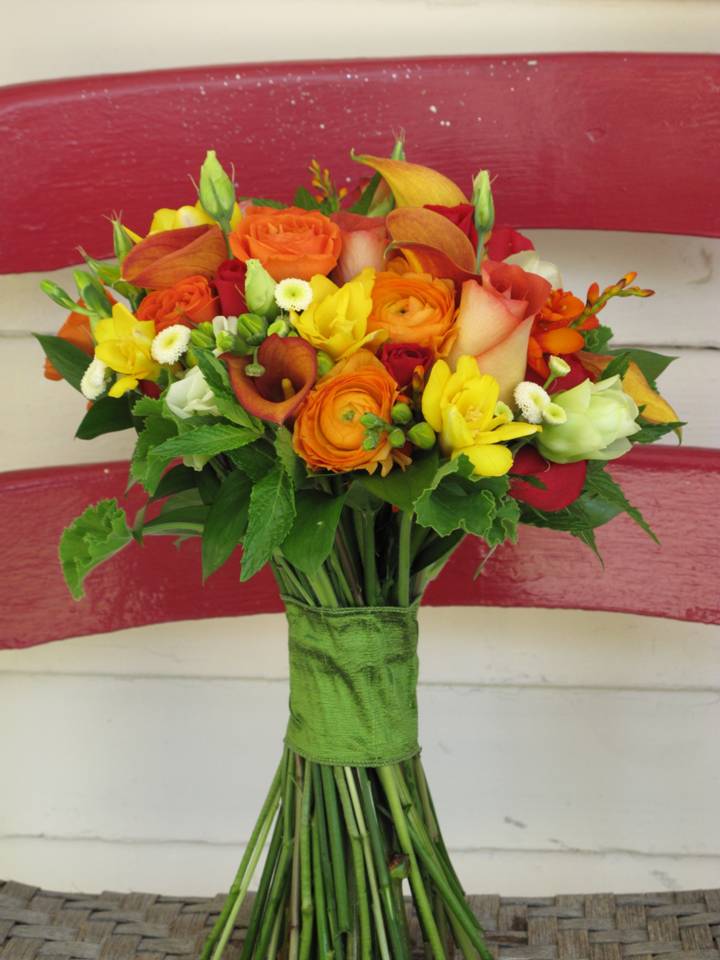 …and one of a flower girl basket!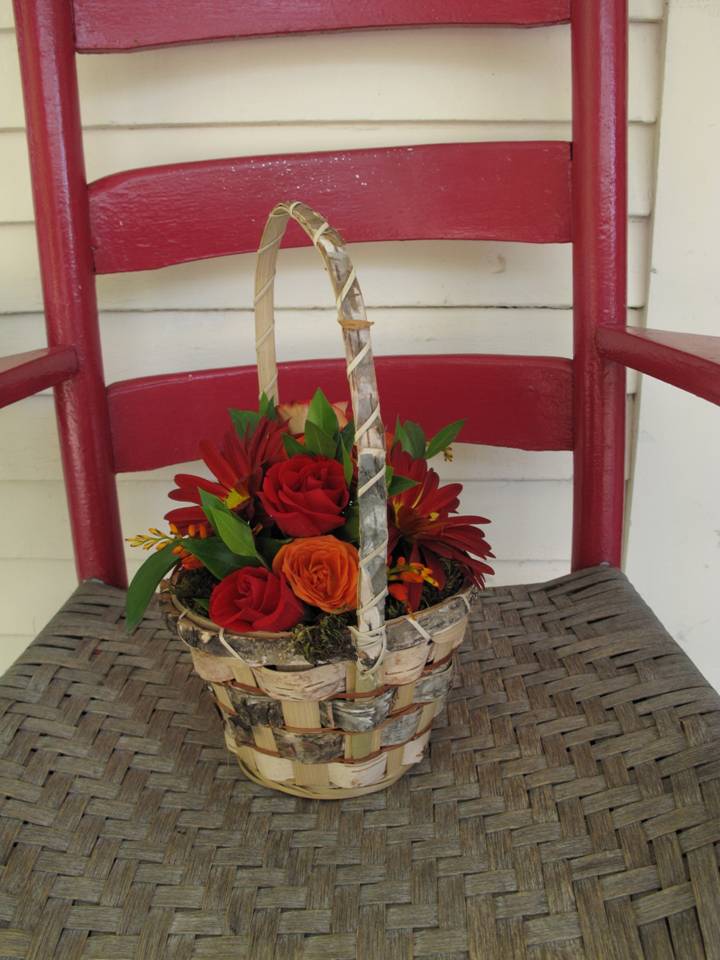 The groom rigged up these paper lanterns with LED lights on the porch.  Centerpieces were designed in mini sap buckets with a mix of fall blooms including sunflowers, gerbera daisies, spider mums, snapdragons, safari sunset, crocosmia, roses and fresh herbs.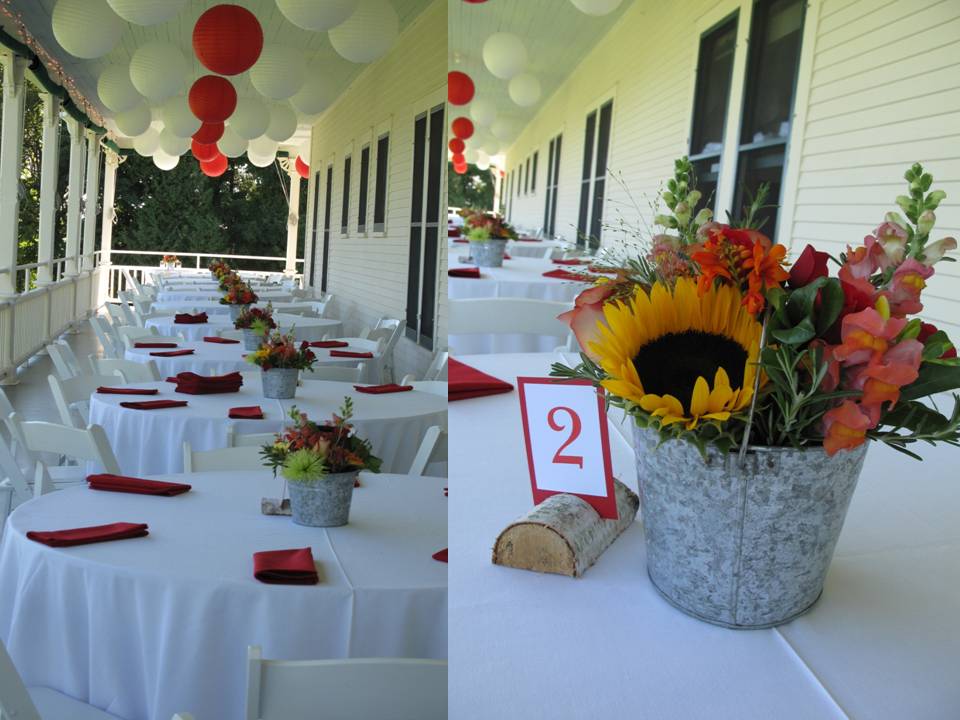 There was a fabulous view of Mt. Mansfield from the porch.  It truly was a fantastic day.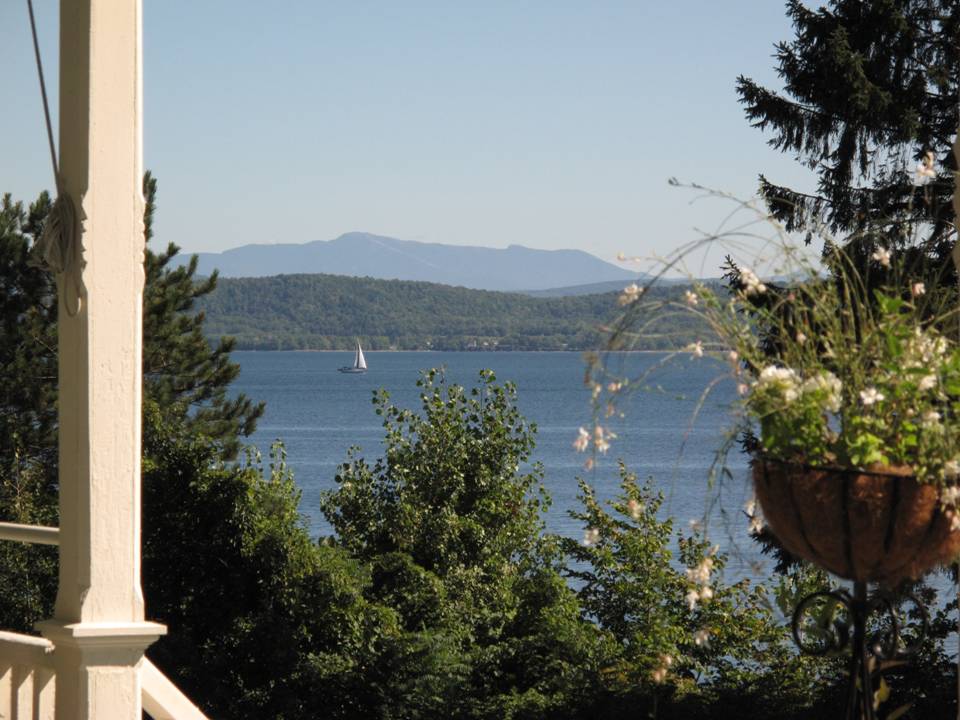 Congratulations to Jess and Emmet!  I am so happy that you had such a perfect day for your outdoor wedding by the lake.  I loved your autumnal colors and I am so glad we got the chance to work at the Lake House on such a wonderful day.
4 comments
Alison – Thank you for this great blog post and thank you SO much for doing the flowers for our wedding. They looked incredibly beautiful and we had so many compliments. We really did luck out with the weather, it was rainy all week but the minute we got to the lake house the clouds parted and the weather was PERFECT!

You did such a good job and it was so nice knowing we could trust you and sit back and relax about the flowers. The first time I saw the tables all setup I was blown away and there was nothing we had to do, you took care of everything!

Thank you again for making our wedding a perfect day Alison, we could not have done it without you! Your work was everything we could have asked for and more!

– Emmet

Alison,

THANK YOU!

The flowers came out amazing! I still can't believe that after just pointing to a couple of pictures and talking for a bit you were able to understand exactly what we were looking for! When I came downstairs and saw the bouquets, the arbor, and the tables I was blown away by how perfect all of it was! Your work is amazing and really appreciated!

Thanks again!

Jess

Jess and Emmet, Your comments just make me smile ear to ear! I am so happy that you both had such a great day and were so pleased with your flowers! I look forward to seeing Spencer's pics of the two of you! All the best, Alison

the day, the bride, (and of corse) the flowers were beautiful. i loved how the flowers tied everything together. form the bouques, to the tables, to the cake…amazing. wonderful brillant fall colors that accented each part of the wedding superbly. setting a simple yet elegant 'vermont in the autumn' atmosphere. complete with maple syrup. emmet and jessica could have gotten married in an empty room and nobody would have walked away speaking of anything but how the bride and groom shined together with their obvious love and commitment to eachother. the prettiest flower arangment becomes magnificent when it highlights such a perfect union of hearts and lives.