Details, details, details.  Beautiful weddings are all about the details and Caitlin & Alex had some pretty sweet ones at The Round Barn.  Clockwise from top left:  Each table was named after a different plant species (so up my alley!) and the menu was printed on the back, Curly willow in a birch basket was the centerpiece for the place card table which was lined with a bed of moss & pine cones, Caitlin made moss monograms to greet their guests and super cute "bride" & "groom" signs for their chairs, Candles tied with cedar adorned the cocktail tables, Irene's cakes by design created 2 beautiful cakes which were the centerpieces on the dessert buffet, Menus were displayed to give guests a peek at what was in store for the evening and finally, a closer look at the place cards punctuated with pine cones.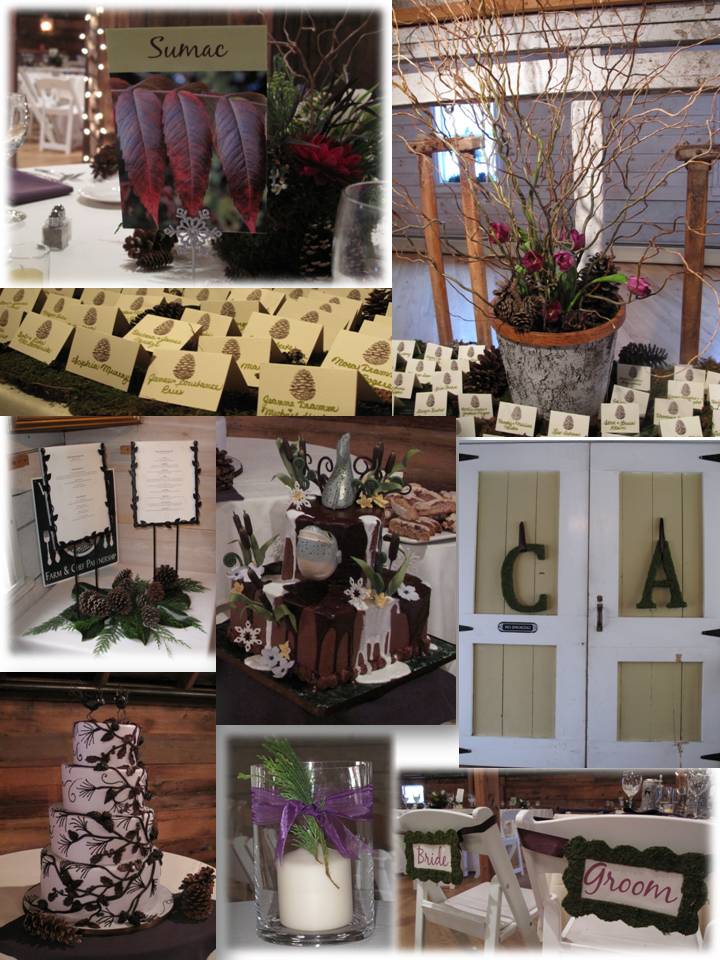 If you missed yesterday's post you'll see some floral detail shots from Caitlin and Alex's big day.  They were so much fun to work with I am almost sorry the wedding's over!
2 comments
Alison, thanks so much for all the kind words. You did an absolutely amazing job on our flowers!! I loved everything about them. My bouquet was perfect and quite possibly the most beautiful floral arrangement I have ever seen. We just got back to Florida today after spending a couple more days in VT. I kept bouquet and a centerpiece with me while I was up there so I could enjoy them for as long as possible. The centerpieces were exquisite. They were like a little forest floor ecosystem with tons of flower growing out of the moss. Each time I looked at it, I saw some new detail I hadn't noticed before.

I am so thrilled to hear that, Caitlin! I cannot wait to see pictures of you and Alex. You both looked fantastic. All the best to you both!!!