Becca & Blain are a VT couple whose style I love!  They love wine & they love their dogs and both were represented beautifully in their June wedding at Stowehof.  Their easy-going, leave-it-to-the-professionals approach made my job so much fun…And a color palette of coppery oranges and lemon yellows with pops of peach is just what the drizzly day called for. 
Their adorable table numbers featuring their dogs, Salinger & Dallas, are probably my favorite detail, although the custom corks with their logo which held the escort cards were pretty darn DIY savvy.  I usually start with something floral, but check out their pooches who posed in various locations around Vermont!
Onto flowers…The bridesmaids wore lemon yellow and their bouquets included (top row) leonidas roses, yellow spray roses, white freesia, orange ranunculus, peach gerberas & roses, yarrow & oregano.   The bride carried white peonies, sweet peas, leonidas & peach roses, yellow freesia, ranunculus, yarrow & oregano.  Bottom left is the front of her bouquet, right is the back (aka the bride's view!).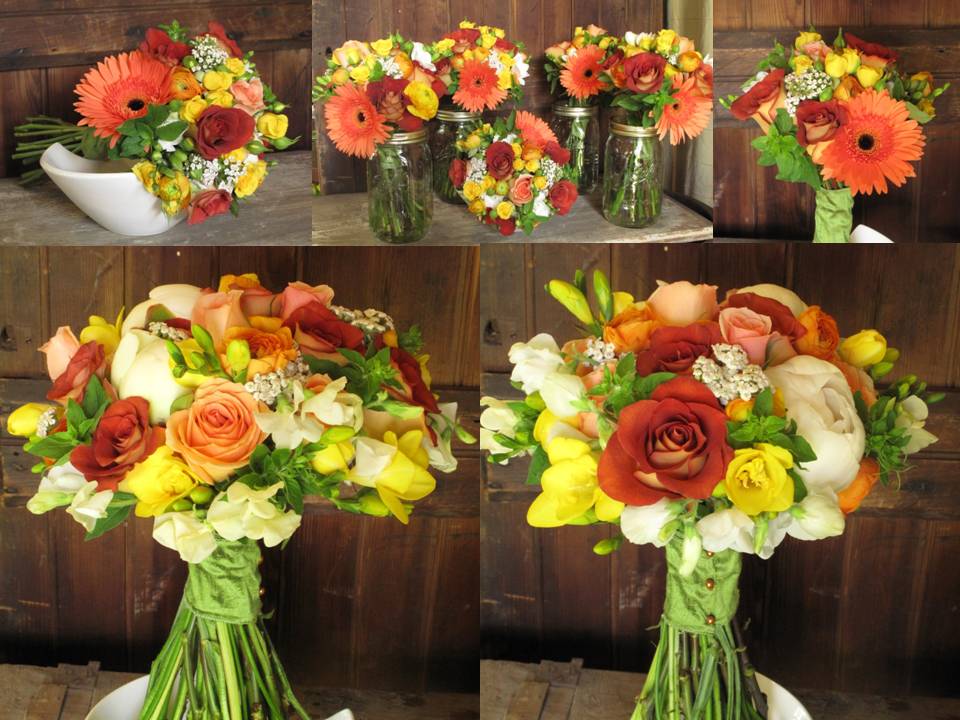 The place cards were displayed in customized corks.  They asked their guests to write a wine recommendation on the corks & then gave them corkscrews to take home. 
The casual, country inspired centerpieces included snapdragons, freesia, roses, fresh oregano, sweet peas, spray roses, gerberas, dahlias and ranunculus in mason jars.  I love the linens.
A groomsman posed so I could get a shot of his tie…the groom wore a bow-tie.
Here's another glimpse at the table numbers.  They really are too cute.  Clever couple!
So clever in fact, that they made a key so folks would know where in VT the pics were taken.  These dogs got around!  They were at the State House, Magic Hat, Mad River Glen, VT Teddy Bear Factory, Church Street, Snow Farm Vineyard, Ben & Jerry's…to name a few!
The bride & groom were not afraid of a little rain.  We set up for their ceremony in a drizzle.
Congratulations to Becca & Blain! (and Salinger and Dallas, too!)  Best wishes to both of you and good luck getting through all those new wines you are going to have to try!  It was great working with you…I love when a couple gives me the freedom to just do my thing!  I am sure your fabulous DIY details will inspire other Vermont couples.
3 comments
Thanks, Sarah Jo! It was fun.

The flowers were amazing. Fit for a beautiful bride and that she was! I have never ever seen a more beautiful bride in my life.

The love that radiated between Blain and Becca for each other, their dogs, their family and their friends explains why the whole week end was such a success.

As one of Blain's dear friends put it "They made all the couples present fall in love all over again".

Alison, great job. Your beautiful arrangements added to the unique style of the whole wedding!

Much Love to all.
Mom
xoxoxoxo

Good morning, Jean Marie, Thanks for your comment! Becca looked beautiful before she was even dressed!!! I am sure she was stunning. I look forward to seeing pictures of the two of them! Blain said the centerpieces were "perfect" and that truly made my day. I am so glad the flowers could elicit such an enthusiastic response!