Kimmie and Corby were married last Saturday on a rainy (then sunny, then rainy, then sunny) day in Stowe.  When I first saw Kimmie walking up my porch last fall in her cowgirl boots and colorful skirt I thought to myself, "Oooh, I'm gonna like this girl."
At the end of our consultation as I mentioned some details including, "…if you decide you'd like to work with me…", Kimmie interjected, "Yeah, I already know I want to work with you."  When a client and I are a good fit the decision to work together is pretty effortless.
The overall style we were going for was colorful and vibrant with some vintage inspired details…more of a retro-like vintage than classic-vintage.  The bouquets were filled with fun jewel tones including dark blue delphinium, purple and lavender sweet peas, yellow freesia, orange ranunculus, raspberry pink roses, stock, mini-green hydrangea and sweet William.  The attendants wore pewter dresses so the colorful blooms were the perfect contrast.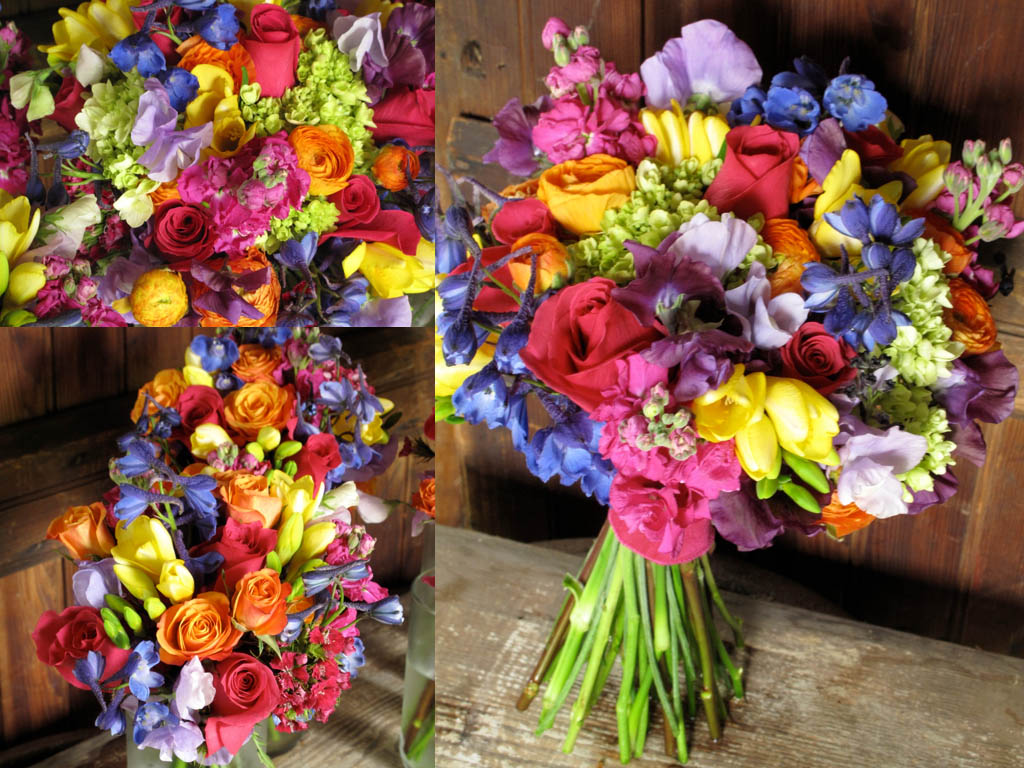 The centerpieces were designed in an eclectic mix of silver julep cups and pedestal bowls.  The custom runners were a Tiffany blue…the perfect touch to finish the look!  This color palette just makes you feel good.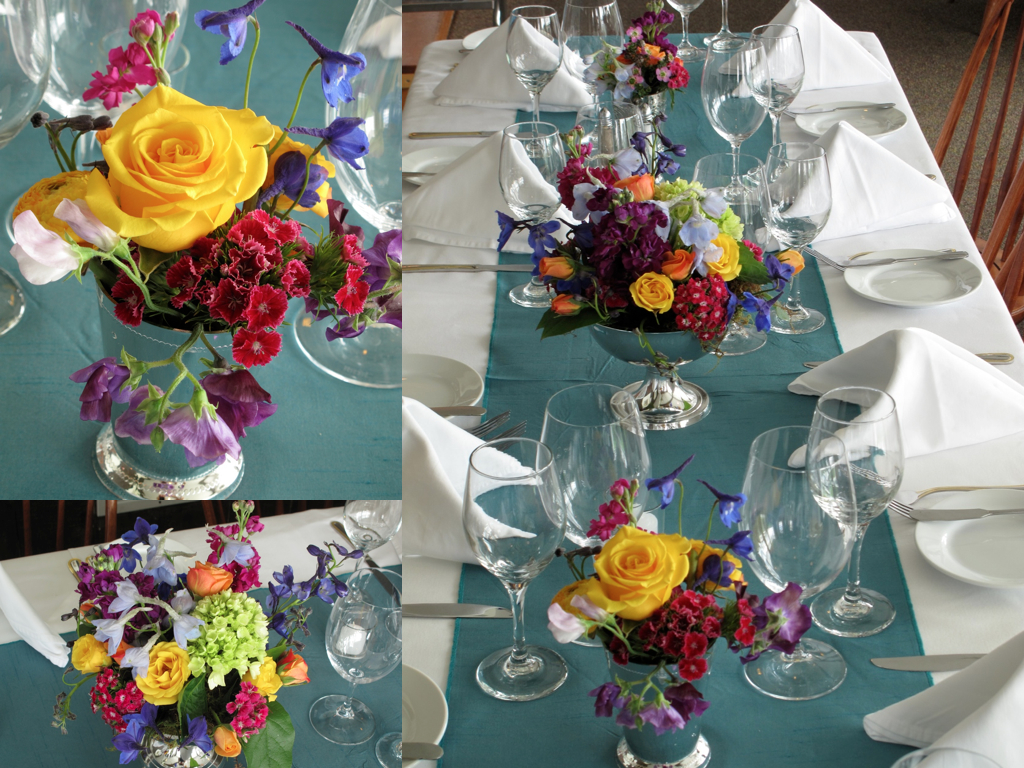 The adorable flower girls carried wire baskets with colors to match the girls and corsages of orange and pink for the moms were just too sweet!  Although the wedding eventually moved indoors (after another rain shower!), we optimistically set the ceremony flowers outside.
I saw Kimmie the day after their wedding and she was still beaming…smiling ear to ear, which made me smile brightly, too.  Happy couples make my job so rewarding and when a bride tells me that the flowers exceeded her expectations, the groom was impressed, and I'm a "floral diva", well, I'm pretty much on cloud nine.
Congratulations to Kimmie & Corby!…and thanks for being an awesome couple with a super fun style that was a pleasure to work with!
4 comments
Great blog Alison and the flowers look AMAZING!! It sounds like she was quite the bride and you guys were a great match. Flower Diva!! YES YOU ARE!!

So pretty! Amazing how nature's own palette goes stunning together no matter the color.

Thanks so much Hallie!

So true, Carey. You can't argue with natural beauty!