Alison Ellis
Chief Creative Officer, Floral Artistry
I will make your wedding day beautiful.
Weddings are my main focus so I keep up with trends as well as traditions, but the fun part is finding ways to help you meld the two to create your perfect wedding look.
I've worked for 22 years as a designer and I take great joy in the creative process.
I consider it an honor to be chosen to play a role in your wedding day.
"My vision is that the true art of floral design is found through high quality flowers and superior design technique.  Using natural and local materials in creative ways I incorporate flowers that represent the best of the season.
With a degree in Plant and Soil Science from The University of Vermont and 22 years of professional design experience I offer a full spectrum of knowledge about flowers and plants.
There are some things a flower shop cannot offer—that's where I step in."
-Alison Ellis, Owner & Designer
 A few things I love…
A good story. The MOTH Radio Hour is probably my favorite thing lately.
Dark chocolate. Or milk chocolate. Any kinda chocolate, really.
Coffee. Black. (unless you're going to Dunkin' Donuts and then it's light and sweet.)
Laughing with my kid.
Italy.
Vermont summers.
Making turns on a beautiful spring skiing day.
Natural light.
Homemade soup.
Wyclef.
I'm a proud contributor & guest blogger for Flirty Fleurs, a blog & new magazine that encourages & inspires floral designers.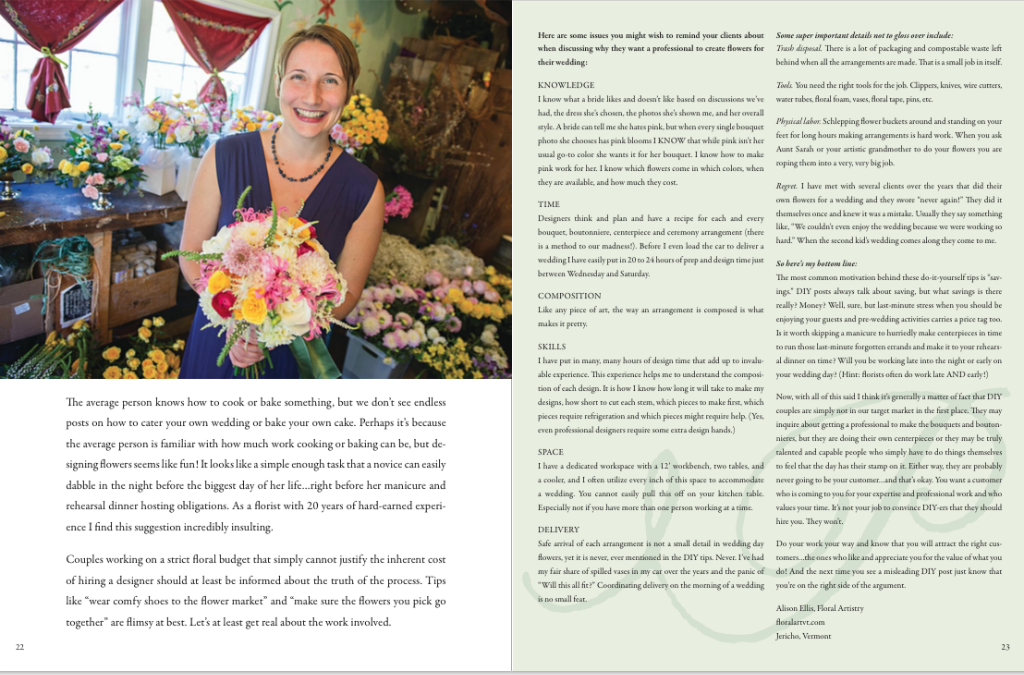 Education
I moved to Vermont in 1996 to attend UVM where I graduated in 2000 with a Bachelor of Science in Plant & Soil Science and a minor in Small Business.  While attending school I was a buyer and designer at a flower shop and after working for a few florists in the Burlington area, as well as an organic flower farm, it was time to branch out on my own. I've worked as a designer for 22 years and 2016 marks the 15th season for Floral Artistry.
In 2015 I released my first online course for floral designers (or Floralpreneurs as I like to say). I believe in a culture in floristry where our standards are on the rise and our customers experience tremendous value in the beauty we create. Real Flower Business Happens Here: realflowerbusiness.com

Love & Life
My husband, David, and I met at UVM, fell in love, got married on the shores of Lake Champlain and never left!  We truly love Vermont weddings.  In March 2012 we brought a native Vermonter into the world, our son, John.  We love Vermont babies, too.

Pictured: David and John on John's first wedding delivery.